Last February when my niece, Lia Petrosian, was visiting me with her little son, she saw me working on my new series of paintings "Vibrations of the Universe".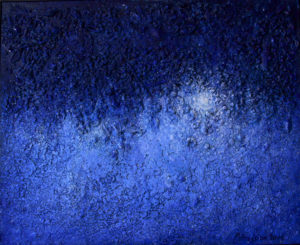 "Vibrations of Ultramarine" painting was already finished, and she had this idea of how wonderful would it look to have it presented on silk. None of us knew anything about silk printing technologies and there was no way we could really imagine how the end product would look like, but she kept coming back to it. Before going back to London, she asked whether she can do some research and some test samples.
I agreed as I'm always up for finding new ways of creating something beautiful and I know that there are no crazy ideas when it comes to creative work.
That's how it started, and I'm happy to announce that the crazy idea emerged into something truly beautiful. A few days ago we launched Aithne – silk scarves based on my paintings. To read the full story from Lia's view, please read our story on Aithne website. If you love the idea, you can also view the scarfs there.